CTLSO Flex Foam® 1 - Bivalve
(Cervical Thoracic Lumbar Sacral Orthosis)
Smooth Overlap with Cervical Extension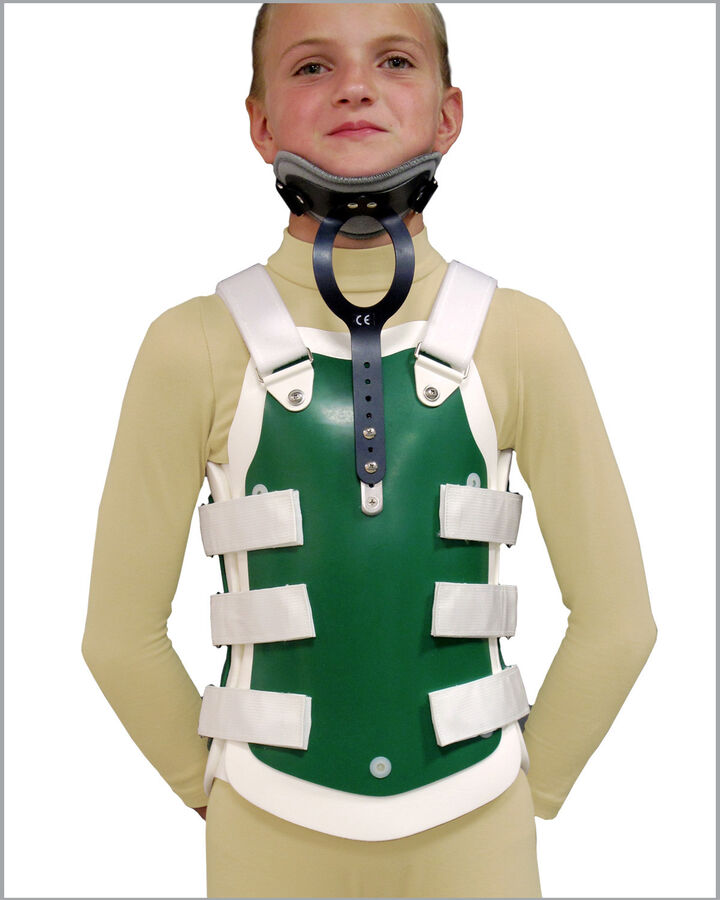 Overview
This TLSO with the additional cervical component is offered in our patented Flex Foam® 1, with bivalve opening and tongues. This orthosis not only allows compression, expansion, and adjustability but secures the patient from the neck, down to the spine.
Spinal Indications
Post-Operative Cervical Fusions
Anterior and Posterior Control of Cervical Spine
High Compression Fractures
Osteoporosis
Herniated Cervical Disc
Spinal Trauma
Features
Cervical attachment easily contoured.
Tracheotomy access.
Mandible component easily molded to chin contour.
Removable frame for easy adjustment.
Height adjustable.
Lightweight.
The Flex Foam® design works well with both the geriatric and pediatric population.
Increased comfort for patients.
Bivalve Opening: Overlap Options & Configurations
Bivalve Opening Overlap Options:
Smooth Overlap, Step Overlap, With Tongues (pictured)
Bivalve Configurations:
Anterior over Posterior, Anterior into Posterior
Order Form Product Options Product Info PDF Transfer Patterns
I wanted to thank everyone involved with the fabrication of this CTLSO. It was a difficult case as the patient is a tiny NICU baby, and you were spot on. Great job everyone!
I wanted to let you know that the family, the Doc and I couldn't have been more pleased with this very difficult custom Minerva Cervical Extension. The scan/order came in pretty late for such a tough case and you finished it same day nonetheless. Thank you to everyone involved.